Ohio Emergency Medicine Residents' Assembly
August 8, 2019
Renaissance Columbus Downtown
This is the annual event that brings Ohio's future EM docs together for an awesome day designed just for you—Explore career options, catch up with friends, and join the fun, August 8, 2019 at the Ohio EM Residents' Assembly!
---
Resident & Medical Student Poster Competition
Resident and Med Student Categories Available
For a shot at the Poster Competition Grand Prize, submit your "Research" or "Case Study" poster abstract by July 18th!
Poster categories and submission criteria
---
Resident Board Member & Resident Councillor Election
Information coming soon. Nominations due by July 14th!
---
Residents' Assembly Location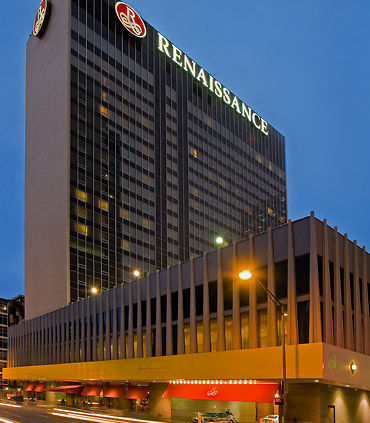 Renaissance Columbus Downtown Hotel
50 North Third St
Columbus, OH 43215
(614) 228-5050
Renaissance Directions
Group Rate Reservation Deadline: July 24, 2019 (or as the block permits)
Reservations: 614-228-5050 or 1-877-901-6632 (Please make sure to mention the code "ERA" when making your reservation.)
Room Rate: $139 (plus applicable taxes) Parking: $18 overnight or $15 daily (valet only) Attendees are encouraged to carpool.
Book My Overnight Hotel
---
Faculty Highlights
"Oh My! EM Employment Contracts! Help!"

Gary Katz, MD, MBA, FACEP

"Emergency Medicine & More"

Aisha Liferidge, MD, FACEP
"Get Ready! It's Life After Residency!"

How to Be an Awesome Bedside Teacher

John Casey, DO, FACEP


Practice Options

Michael Pallaci, DO, FACEP


Lifelong Mentoring: A Key to Success

Matthew Stull, MD
2019 Residents' Assembly Poster Competition Judges:
| | | |
| --- | --- | --- |
| Purva Grover, MD, FACEP - Chair | Linda Katirji, MD | Michael Pallaci, DO, FACEP |
| Linette Archer, MD, FACEP | David Ledrick, MD, FACEP | Jack Palmer, MD, FACEP |
| John Casey, DO, FACEP | Mohamad Moussa, MD, FACEP | Jeremy Traylor, DO |
| Thomas Gifford, DO | Catherine Marco, MD, FACEP | Sandra Werner, MD, FACEP |
More to come!
---
Didn't make it to the 2018 Assembly? Here's what you missed!
On August 9, 2018, more than 250 residents, medical students, residency program directors, and leaders from National ACEP gathered for the Ohio Emergency Medicine Residents' Assembly & Career Fair in Columbus.
Twenty EM residencies and medical schools were in attendance for Ohio ACEP's signature event supporting EM residents. Residents got the chance to explore career options with more than 30 recruiters and employers, compete in the Ohio ACEP Poster Competition, and vote for resident leadership to represent their interests on the Ohio ACEP Board and ACEP Council.
| | |
| --- | --- |
| Dr. Theron Andrus (CWRU - MetroHealth - Cleveland Clinic) presents his case study poster at the Ohio ACEP Poster Competition | Cleveland Clinic - Akron General residents try out the Residents' Assembly selfie screen! |
| Assembly attendees got the chance to meet with more than 30 employers and hospital groups to help them explore their first big career decision | Mercy St. Vincent resident, Dr. Breanne Jaqua, chats with Ohio ACEP President, Dr. John Queen |
| Dr. Brooke Pabst (OSU Wexner Medical Center) was elected Resident Rep to the Ohio ACEP Board by her fellow residents | Ohio State residents were out in force for the 2018 Residents' Assembly! |
---
2018 Ohio ACEP Poster Competition

The 2018 Poster Competition was our biggest ever, with 34 entries—Congratulations to all the winners!


Resident—Research Category
First Place

Matthew Gangidine, MD
Wright State University
Trends in Civilian Trauma, 2004 - 2016: Implications for the Emergency Physician

Second Place

Brian Tessaro, DO
Memorial Health System
The Effect of First Dose of Antibiotics on Patient Satisfaction

Third Place

Siddarth Goyal, DO
Grandview Medical Center/Kettering Health
The Safety of Ketamine When Used for Agitation in the ED Psychiatric Patient

Resident—Case Study Category
First Place

Jennifer DeMarco, MD
Cleveland Clinic - Akron General
Syncope and Bedside Diagnosis of Aortic Dissection

Second Place

Luke Apisa, MD
University Hospitals Cleveland Medical Center
Early Confirmation of Toxic Ingestion and Aspiration Pneumonitis via Bedside Ultrasound

Third Place

Ryan Stegenga, MD
Case Western Reserve at MetroHealth and Cleveland Clinic
Traumatic Compressive Cervical Myelopathy without Bony Injury

Medical Student—Research Category
First Place

Helena Holmgren
Northeast Ohio Medical University
Perceived Proficiency of Procedures by Emergency Medicine Residents

Second Place

Brianna Arko
Affiliated with University Hospitals
Factors Associated with Patient Visitors in the Emergency Department

Third Place

Oswald Perkins
Wright State University Boonshoft School of Medicine
Naloxone Use Among Emergency Department Patients with Opioid Overdose
---
2018 Resident Elections
Congratulations to Dr. Brooke Pabst (Ohio State University Wexner Medical Center) who was elected as Resident Representative to the Ohio ACEP Board and Dr. Onyeka Otugo (Cleveland Clinic-Akron General) who was elected to serve as Resident Councillor
Brooke Pabst, MD
Resident Representative
Ohio ACEP Board

Onyeka Otugo, MD
Ohio ACEP Resident Councillor
---
| | | |
| --- | --- | --- |
| Adena Health System's Dr. Michael Weinstock [left] and Program Director Dr. Michael Pallaci [right] present "Bouncebacks! Critical Care Rapid Fire!" | ACEP Past President and EM wellness rockstar, Dr. Linda Lawrence, leads an engaging session on maintaining health and wellness after residency | Risk management guru and ACEP Board Member, Dr. Kevin Klauer, challenges resident attendees with "High-Risk Cases in Emergency Medicine" |
---
For more photos from the 2018 Ohio Emergency Medicine Residents' Assembly, Like us on Facebook and check out the photo album—and be sure to check out #EMRO18 on Twitter!
---
---
Residents' Assembly




2019 Exhibitors & Sponsors



Event Sponsors
---
Breakfast Sponsor
---
Lunch Sponsor

---
2019 Event Exhibitors
as of 6/5/19
AcelRx Pharmaceuticals, Inc.
Allergan
Alteon Health
ApolloMD
BattDouglas Financial Group
Bristol-Myers Squibb/Pfizer
Cleveland Clinic
Community Emergency Medicine Partners
Emergency Services, Inc.
EMPros
Envision Physician Services
Indiana Emergency Care
Kettering Health Network
Mid-Ohio Emergency Services
Mint Physician Staffing
Ohio Physicians Health Program
Penn Highlands Healthcare
Skylight Financial Group/MassMutual
Sound Physicians
Southern Illinois Healthcare
TeamHealth
UPMC Emergency Medicine
US Acute Care Solutions
Vapotherm
VEP Healthcare
Vituity
WVU Medicine

more to come!
---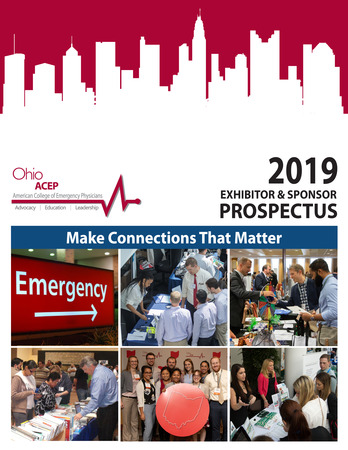 And be sure to check out #EMRO18 on Twitter!
---
Photographic Image Consent
Registration and attendance at or participation in Ohio ACEP events constitutes an agreement by the registrant to Ohio ACEP's use and distribution (both now and in the future) of the registrant or attendee's image in photographs or likeness in connection with the use and promotion of the chapter, chapter leadership, and chapter activities and programs including portraits, still pictures, or other photographic reproductions in print or online.