Ohio ACEP Advocacy Day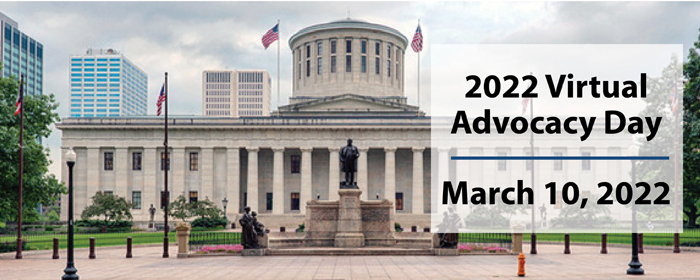 Have an interest in advocating for Emergency Medicine?

Here's your chance!

Join us April 29, 2021 to meet with legislators, learn how to advocate for your specialty and empower yourself to make a positive difference! While we can't be together in person at our Statehouse, we can still make our voices heard! The format will be 100 percent virtual using video chat platforms.

Please reserve 8 am – 5 pm on your calendar.
8 to 10 am: Virtual Advocacy Day Bootcamp
Meeting times with your legislators will be communicated prior to the event.
Please call Ohio ACEP (614) 792-6506 if you are still interested in registering for our virtual Advocacy Day.
Individuals who register past April 2 are welcome to join the virtual bootcamp and participate in any of the scheduled legislator visits. Due to time and scheduling limitations, we may not be able to schedule a meeting with your individual legislators.
---


How does virtual advocacy day work?
Advocacy Day 2021 will begin with a virtual bootcamp from 8 to 10 am featuring policy experts and your peers. Following that, you will be fully prepared to engage with your local legislators or their staff from the comfort of your home or office.
Ohio ACEP will arrange meetings with your elected officials and/or members of their staff. Physician advocates will be matched in groups and meetings will be scheduled according to your home address.

Why should I attend?
If you are a first-timer to Advocacy Day, you will gain a better understanding of policy issues, congressional processes, and proven methods to effectively tell your story and frame the issues. Open the door to new relationships with your elected officials and their staff.
If you are a returning participant, you will maintain and cultivate relationships with legislators and their staff by communicating current issues affecting emergency medicine and staying informed on their views.


Will I make an impact?
Yes! As a direct result of past Advocacy Days, members of Congress have signed on as cosponsors to bills we champion, given public floor statements, hosted events, supported our issues and more.
While the covid pandemic has made it difficult to have traditional face-to-face meetings between lawmakers and constituents, connecting by video or phone is the new norm. Make sure emergency physicians are heard in this new landscape!
Keep in mind: advocacy is a marathon, not a sprint. If you want to have a greater and long-term impact, it is important to build relationships with your legislators.

What is a virtual meeting like?
You will connect with your lawmakers' office through a virtual zoom meeting that we set-up.

Meetings will be anywhere from 15-minutes to 1-hour.

Meetings are generally simple conversations. You do not need to do a formal presentation such as a PowerPoint slide deck.

It is important that you share data, stories, and your personal knowledge of current issues affecting emergency medicine.


Do You Have Any Other Tips?
Remember, you'll be representing yourself as a constituent. You will not be expected to act as a lobbyist or to have all the answers. Simply be confident in the knowledge that you do have: personal stories and on-the-ground knowledge about what is happening in your profession that is very valuable to your legislators.
Prior to the event Ohio ACEP will provide participants with access to an advocacy toolkit that will include messaging tips to enhance the effectiveness of your advocacy and personal stories. It will also include Ohio ACEP's current agenda regarding EMTALA and Scope of Practice.
---
Can't make it, but would like to have access to the advocacy toolkit to make your voice heard?
Send an e-mail to sposey@ohacep.org noting you will not be attending the virtual event but would like the advocacy toolkit.