Dr. Carol Rivers' Oral Board Review Products
Rivers' Oral Board material will help prepare you to confidently pass your oral board exam.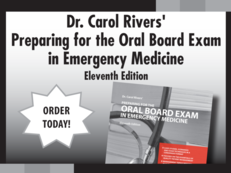 Dr. Carol Rivers' Preparing for the Oral Board Exam
in Emergency Medicine, Eleventh Edition
2016 Release
Order your copy today from the Ohio ACEP bookstore!
Dr. Carol Rivers' oral board review products provide a proven, systematic approach to enhance your performance on the Oral Board Exam. The eleventh edition text includes case studies, scenarios and exam techniques in a condensed format to help you prepare for the exam. In addition, the management topics are written in outline format for easy learning and review.
The audio program complements the text and is an effective way to learn and practice decision making through simulated encounters and features real life cases to challenge your knowledge. A thorough analysis at the end of each case offers a step by step approach and additional instruction on strategies for difficult cases and multiple encounter cases. It is available to purchase as a cd set or as a digital download.
Preview the Overall Table of Contents
Sample Case Management Guidelines
Sample Physical Exam Litanies
Sample Troubleshooting Tips
Return Policy: Dr. Carol Rivers' Board Review Products are non-returnable and non-refundable. No exceptions.

Eleventh Edition (2016)
Listen and Learn! Improve your chance for success on the Oral Board exam by listening to simulated encounters performed by your peers. Hear essential tips and strategies that complement the Dr. Carol Rivers' Preparing for the Oral Board Exam in Emergency Medicine 11th edition text.

This comprehensive audio program will give you the edge and includes a variety of practice cases, keys to navigating the exam and a comprehensive review at the end of each case. Expert physician faculty from Ohio partnered with Dr. Amal Mattu and the University of Maryland School of Medicine to present this material. Featured topics include: Major Trauma, Cardiopulmonary, Substance Abuse, Toxicology, Pediatric Emergencies and Acid-Base Disorder. Other highlights include a triple case, strategies for case management and clinical reviews of important topics.

Ensure your chance for success! Prepare with this trusted tool and don't leave it up to chance.