Annual Meeting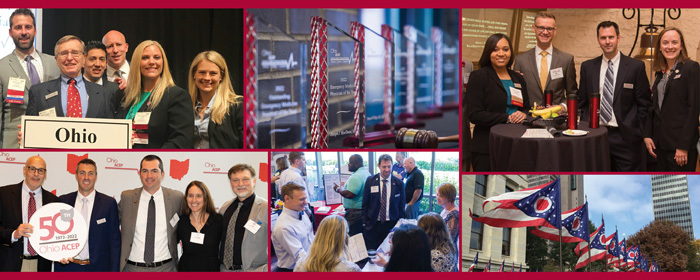 Ohio ACEP Advocacy Day & Annual Meeting
May 1, 2024

Ohio Statehouse & The Athletic Club of Columbus
Columbus, OH
Planning for this event is underway!
Check back for additional information and online registration!


---

Call for Presenter Proposals:
Planning for the 2024 Ohio ACEP Annual Meeting is under way, and we would love to include you! The event Planning task force is seeking proposals for high-quality, 10-minute, lightning presentations on topics relevant to our chapter members. (i.e. advocacy, reimbursement, wellness, ethics, policy, professional growth, risk management, medical trends, etc.).
If you are an Ohio ACEP Chapter member and have a great idea for a 10-minute, lightning presentation, we hope you'll submit an application to present.
Submit Your Proposal

Applications and CVs must be submitted by November 10!
2023 Board of Directors & Councillor Elections


Election Results
In conjunction with the Annual Meeting, Ohio ACEP held its annual elections for Board of Directors and ACEP Councillors.
Dr. Eric Drobny was reelected to the Board for a three-year term. In addition to our returning incumbent, Ohio ACEP members also elected Dr. Christina Campana and Dr. John Queen to serve on the Board.

Drs. Eileen Baker, Christina Campana, Daniel Martin, Michael McCrea, John Queen, Matthew Sanders and Ryan Squier were reelected as Councillors to represent Ohio ACEP at the National ACEP Council meeting. Dr. RJ Sontag and Dr. Brian Scharfenberg were also elected to join the Ohio Council delegation.
Congratulations to these members!
Ohio ACEP Annual Awards Program
- Ohio ACEP Annual Award Nominations -
The nomination period for the Ohio ACEP 2023 Annual Awards is now closed.

Awards were presented at the Ohio ACEP Annual Meeting on June 7, 2023.
Click Here to view our Ohio ACEP award winners.
Exhibitors
CME Accreditation
Approved for AMA PRA Category 1 Credit.TM