Advocacy Updates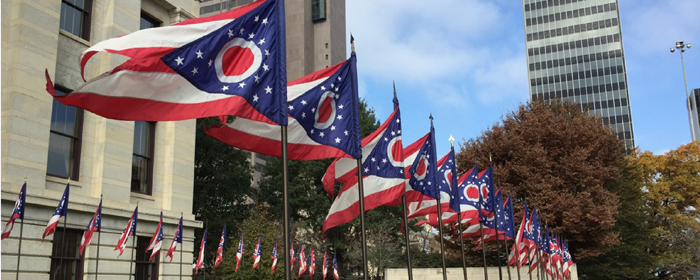 What We Are Watching at the Ohio Statehouse
Ohio ACEP is following a number of legislative issues related to the practice of emergency care in the state of Ohio.
---
Prudent Layperson Legislation – 4th Hearing Held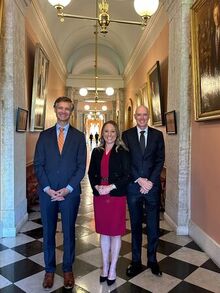 Ohio ACEP's priority legislation regarding patients' coverage for emergency services continues to have hearings before the House Insurance Committee. On September 20, 2023, Ohio ACEP Board member and Ohio State Medical Association President Dr. Eric Drobny testified in support of the legislation. (Dr. Drobny is pictured here with HB 99 sponsor Representative Susan Manchester and Ohio ACEP Government Affairs Chair Dr. RJ Sontag). You can read the testimony that Dr. Drobny gave to respond to opponent testimony from the Ohio Association of Health Plans here.
If you have not done so, it is important for you to contact your legislator and ask them to support House Bill 99. If your State Representative is a member of the House Insurance Committee, it is even more critically important that you express your support for the bill. Ohio ACEP is able to assist you with talking points and messaging if you need it.
APRN/PA Legislation Update
Senate Bill 81 is sponsored by Senator Mark Romanchuk and would make changes to APRNs' and physician assistants' scope of practice. The bill does retain the requirement that APRNs have a standard care arrangement and PAs have a supervisory agreement with a physician.
Under the substitute bill accepted by the Senate on September 20, 2023, those agreements could give APRNs the authority to "sign any document relating to the admission, treatment, or discharge of an inpatient receiving psychiatric or other behavioral health care services," The APRN and the collaborating physician must be employed by the hospital where the patient is receiving inpatient psychiatric or behavioral health services.
The bill also would allow a physician assistant's supervisory agreement to give them the authority to sign documents related to the admission, discharge, or treatment of patients in a hospital. The PAs supervising physician must also be employed by the hospital or a member of the hospital's medical staff.
The bill provides some civil liability protection to the physician for adverse action that could arise from the APRN or PA signing the forms. This legislation is being considered by the Senate Health Committee. At the sponsor hearing, Senator Romanchuk indicated the bill is intended to decrease barriers to admitting patients with behavioral health needs. The Ohio State Medical Association and the Ohio Hospital Association are neutral on the legislation.
Hospital Transparency Bill Begins Senate Hearings
Representatives Ron Ferguson and Tim Barhorst are advocating to advance House Bill 49 regarding healthcare price transparency in hospitals. The bill is intended to align Ohio's law with the federal hospital price transparency law. Under the legislation, the Ohio Department of Health would have authority over the enforcement of the price transparency requirements, including issuing fines for non-compliance. If a hospital is not compliant, the legislation states that medical bills would not be able to be sent to collections, hospitals would be prohibited from going to court over medical debt, and hospitals would be prohibited from filing reports on medical debt to impact consumer credit scores. An amendment was added to the legislation in the House putting restrictions on medical creditors (including providers and facilities) and medical debt collectors from reporting medical debt to a consumer reporting agency for a period of one year after the patient was first sent a bill for medical debt. The amendment also requires patients be sent one additional bill at least 30 days before reporting medical debt to a credit reporting agency. HB 49 has been favorably passed by the full Ohio House of Representatives by a vote of 88-4. It will now be considered by the Senate Small Business and Economic Opportunity Committee.
Election Update
On November 7, 2023, Ohioans will be going to the polls. There will be 2 high profile statewide initiatives before the electorate.
Issue 1 is a Constitutional amendment regarding reproductive rights; and
Issue 2 is an initiated statute to legalize recreational marijuana.
Expect to hear much about both of these issues as the election nears.
Want to Learn More?
If you're interested in viewing the status of all of the bills Ohio ACEP is tracking, you can find that here.