Complete Story

12/11/2013
Ohio ACEP Testifies Before House Opioid Subcommittee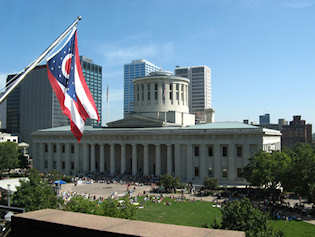 On December 10, Catherine Marco, MD, FACEP, delivered testimony on behalf of Ohio ACEP to a subcommittee of the House Health & Aging Committee. The subcommittee has been assigned to a series of bills designed to further address Ohio's prescription opioid abuse epidemic. Dr. Marco testified as part of a physician panel sharing their concerns about the potential impact of legislation on their ability to appropriately prescribe opioids to treat pain.
The two bills on which Dr. Marco testified were House Bills 332 and 341. HB 332 would compel physicians—including EM physicians—to require a mandatory patient referral to a pain medicine specialist before issuing a prescription for chronic pain. This bill, said Dr. Marco, would negatively impact the ability of emergency physicians to provide pain relief to patients experiencing an acute exacerbation of chronic pain, for example, a patient experiencing chronic back pain who experiences an injury that worsens the condition. When a patient like this presents to an emergency department, Dr. Marco testified that it is not feasible to involve a pain specialist before relieving the patient's acute pain.
House Bill 341 would require a physician, or their delegate, to run and document a report through the Ohio Automated Rx Reporting System (OARRS) prior to prescribing an opiate for pain relief. Dr. Marco noted that emergency physicians have been among the highest users of the OARRS database, a valuable tool through which prior prescribing history can guide a physician's judgment on whether to prescribe a controlled substance. "However," Dr. Marco testified, "Ohio ACEP does not support the OARRS check being a mandatory requirement for writing these prescriptions in the Emergency Department setting." According to Dr. Marco, this requirement would create an undue burden for emergency physicians seeking to promptly and appropriately relieve pain associated with an acute injury, such as a fracture or laceration.
Ohio ACEP has been supportive of the efforts of Gov. John Kasich and the Ohio General Assembly to address the serious problem of widespread opioid abuse in Ohio. In fact, the organization was among the first at the table to offer its support and has been among the most active participants in the Governor's Cabinet Opiate Action Taskforce (GCOAT). Ohio ACEP worked extensively with GCOAT to help craft and promote the Ohio Emergency and Acute Care Facility Opioids and Other Controlled Substances (OOCS) Prescribing Guidelines.
Dr. Catherine Marco has practiced emergency medicine for 23 years and has been actively involved in medical education throughout her career. She served as President of Ohio ACEP from 2006-2007 and has served on the national ACEP Ethics Committee, including service as the Ethics Committee Chair. She currently practices emergency medicine at Wright State University.
---