Complete Story

05/21/2010
S.B. 86 Passed the Ohio Senate
Access to Emergency and Disaster Care
On May 19, 2010, the Ohio Senate passed S.B. 86 by a bipartisan floor vote of 22-10. Ohio ACEP's legislative initiative which extends limited liability protections for physicians providing emergency care under EMTALA to a standard of reckless disregard, instead of simple medical malpractice.
Ohio ACEP would like to thank all members who contacted their State Senator and asked for his or her support to pass this bill. We would also like to thank chapter leaders, Dr. Catherine Marco, Ohio ACEP Government Affairs Committee Chair, Dr. Gary Katz, Ohio ACEP President, the Ohio ACEP Board of Directors and Towner Policy Group lobbyists for their tireless efforts and hard work in the pursuit of this outcome. Special thanks to Senator Steve Buehrer for sponsoring this bill for Ohio ACEP.
Ohio ACEP looks forward to introducing the bill in the House in the fall and will ask chapter members for their support as we implement grassroots advocacy throughout the summer months. Stay tuned!
Senate Bill 86 will:
• Provide additional limited liability for emergency medical providers under EMTALA requirements.
• Encourage participation, particularly of on-call specialists, in emergency medical care. State liability laws should act to encourage these specialists to provide vital on-call services to emergency patients, not inhibit them.
• Improve access to and quality of emergency care for patients in the State of Ohio and the practice environment for emergency physicians.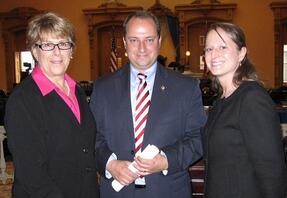 Laura Tiberi, Executive Director, Ohio ACEP; Senator Steve Buehrer, sponsor S.B. 86 and Amanda Sines, Towner Policy Group, in the Senate Chambers, May 19, 2010
---