Complete Story

05/17/2019
Dr. Rakesh Engineer Remembered by EM Residents as Extraordinary Physician & Role Model
By Chief Resident, Dr. Ryan Stegenga, on behalf of the MetroHealth Cleveland Clinic Emergency Medicine Residency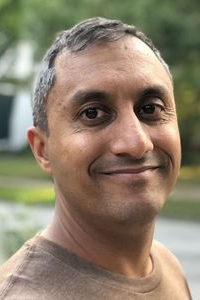 The MetroHealth Cleveland Clinic Emergency Medicine Residency program writes with great sadness to communicate the loss of Dr. Rakesh Engineer. Dr. Engineer passed away peacefully in his sleep this past week. He is survived by his wife and three sons. He was a renowned educator and clinician. He devoted his professional life to 18 years of academic medical service to the Cleveland Clinic and our residency program.
His residents remember him fondly as a bright spirit in the ED. He went to great lengths to spend long periods of time at the bedside getting to know his patients. He was always polite and professional and brought a glowingly positive attitude to work. He was a relatable mentor and would often check in with his residents on shift to see how they were doing or if they needed any help. He would frequently forgo checking his email or getting caught up on notes in order to teach at the white board or be at the bedside with his patients. The young physicians in our residency could not have had a better role model.
He was an active member of Ohio ACEP and an academic physician to his core. He participated in numerous local, state, and national conferences and presented frequently. He conducted multiple research and quality improvement projects throughout his career. He was steadfast in his respect for evidence-based medicine and inspired many of his residents to make decisions as scientifically as possible.
Our thoughts are with his family, friends, colleagues, and patients this week as we celebrate and remember the life of this extraordinary physician. In an unassuming hallway of the Cleveland Clinic Emergency Department there hangs a quote from an unknown patient's feedback survey that so perfectly reads, "Dr. Engineer took great care of me." He will be truly missed.
---