Complete Story

07/22/2015
With Physician-Approved Protocol, Pharmacists Can Now Dispense Naloxone without Rx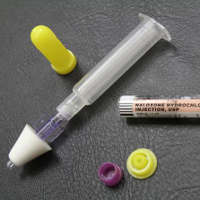 Thanks to a bill signed into law on July 17, pharmacists in Ohio are now permitted to dispense the opioid overdose antidote, naloxone, without a prescription. House Bill 4, introduced by Reps. Robert Sprague (R – Findlay) and Jeffery Rezabek (R – Clayton), authorizes a pharmacist or pharmacy intern to dispense the drug in accordance with a physician-approved protocol.
Ohio ACEP member and naloxone access advocate, Dr. Joan Papp, was one of the bill's most dedicated proponents. In testimony to the House Health & Aging Committee, she said the provisions of the bill would build upon the work under way in counties participating in Project DAWN (Deaths Avoided With Naloxone).
"Overall, we have enrolled over 1,200 individuals and have had reports of at least 112 overdose reversals by individuals who used our overdose kit to save the life of a person who was dying from an opioid overdose," said Dr. Papp, who is Medical Director of Project DAWN.
Despite their success, new naloxone access programs around Ohio have been stymied by requirements that a licensed prescriber be present for all distribution of naloxone. This has provided a significant challenge to many Ohioans at risk of overdose and their loved ones, who often travel long distances to one of the counties where naloxone programs are active.
Under the bill, naloxone may now be dispensed—as part of a physician-approved protocol—to:
An individual for whom there is reason to believe is experiencing, or at risk of experiencing, an opioid overdose; or
A family member, friend, or other person in a position to assist an individual for whom there is reason to believe is at risk of experiencing an opioid overdose.
The law also specifies that a physician who, in good faith, authorizes another individual to personally furnish naloxone—and the individual authorized to furnish naloxone—would not liable for, or subject to, any of the following for any action or omission by the naloxone recipient: damages in any civil action, prosecution in any criminal proceeding, or professional disciplinary action.
To assist pharmacies that are interested in dispensing naloxone pursuant to a protocol, the State of Ohio Board of Pharmacy has developed a web page, www.pharmacy.ohio.gov/naloxone, featuring a number of helpful resources, including a guidance document and sample protocol. In addition, the Board is offering printed no-cost patient educational materials to any participating pharmacy.
---