Complete Story

06/10/2015
Ohio State Residency-Trained EM Physician Becomes AMA President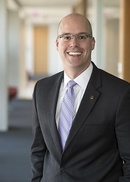 Steven J. Stack, MD, FACEP, was inaugurated yesterday as President of the American Medical Association (AMA). Dr. Stack is the first board-certified emergency physician to hold the position, demonstrating just how far the relatively new medical specialty has progressed in its short history. At the age of 43, he is also the AMA's youngest president in 160 years.
Though he now practices in rural eastern Kentucky, Dr. Stack's Ohio roots run deep. Born and raised in Cleveland, Dr. Stack attended medical school and completed his EM residency at The Ohio State University. After residency, Dr. Stack relocated to Memphis before settling in Lexington, Kentucky with his physician wife and 10-year-old daughter.
Dr. Stack said he would focus his presidency on three important areas:
Improving health outcomes for the nearly 90 million Americans who live with pre-diabetes and the 70 million with hypertension.
Accelerating changes in medical education to ensure physicians of all specialties can meet the demands of a 21st century healthcare system.
Improving physician satisfaction and practice sustainability.
"I am honored and privileged to be named president of an organization that is dedicated to art and science of medicine and the betterment of public health and a profession that is working to improve the health of our nation," said Dr. Stack. "I look forward to serving on behalf of America's physicians to not only create a brighter future for the medical profession but a healthier America one patient at time, one family at a time, and one community at a time."
Congratulations to Dr. Steven Stack on his inauguration as the AMA's 170th president!
---