Save the Date! February 28, 2018
Morning Rounds & Coffee Grounds

If you had the chance to talk to lawmakers about emergency medicine, what would you say?
Would you talk about the opioid crisis?
Would you discuss psychiatric boarding?
Or maybe you would speak up for liability reform?
Here's your chance!
Join us at the Ohio Statehouse on February 28, 2018 as we bring legislators and emergency physicians from across the state together for Morning Rounds & Coffee Grounds, a unique opportunity to meet with lawmakers over coffee and share your perspective on medicine and emergency care.
| | |
| --- | --- |
| Ohio ACEP Past President Dr. Michael McCrea [left], Chapter President Dr. Purva Grover [center] and Rep. Dr. Steve Huffman (R—Tipp City) [right] meet at the Ohio Statehouse for Morning Rounds & Coffee Grounds | Hosts of the popular podcast EM Over Easy [left to right] Drs. Drew Kalnow, Andrew Little, and Tanner Gronowski prepare to greet EM physicians and legislators at Morning Rounds & Coffee Grounds for a special advocacy episode |
| Ohio ACEP leaders [left to right] Drs. Matt Sanders, Ryan Squier, Mary Hancock, Tona Rios-Alba, and Nicole Veitinger gather to talk emergency medicine with Ohio lawmakers | Sen. Edna Brown (D—Toledo) [center left] meets with Ohio ACEP member constituents [left to right] Drs. Daniel Schwerin, Michael McCrea, and Greg Hymel |
Stay tuned for additional details and registration!
Morning Rounds & Coffee Grounds will kick off at the Statehouse:
Ohio Statehouse
1 Capitol Square
Columbus, OH 43215
Lunch, workshops, and overnight accommodations:
Sheraton Hotel at Capitol Square
75 East State St
Columbus, OH 43215

Group Rate Reservation Deadline: January 30, 2018 (or as the block permits)
Reservations: 614-365-4500 (please make sure to mention Ohio ACEP)
Room Rate: $142 (applicable taxes will apply) | Parking:$10 daily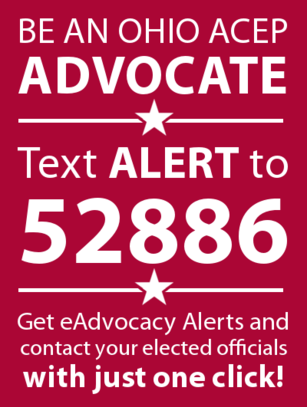 Messages and data rates may apply. Text HELP to 52886 for help. Text STOP to 52886 to cancel.