Save the Date!
Ohio ACEP Advocacy Day
March 20, 2019
Morning Rounds & Coffee Grounds

Ohio ACEP members and legislators from across the state met at the Statehouse in Columbus on February 28 for Morning Rounds & Coffee Grounds, Ohio ACEP's Advocacy Day.
Ohio ACEP members shared thoughts on issues of importance to emergency medicine and took part in interactive sessions with Ohio House members, Reps. Bill Seitz and Steve Huffman, MD, the CEO of the Ohio State Medical Association, Todd Baker, and Senior Director of Government Affairs for the Ohio Hospital Association, Rick Frank. Ohio ACEP attendees learned more about the legislative process, had meaningful exchanges with legislators about health policy, and got great advice on affecting positive change in medicine. The hot button issue generating lively discussion was Anthem Ohio's new policy to deny claims for ED visits later deemed "non-emergent."
Thanks to all the legislators who were able to join us and to all the members who turned out and represented Ohio ACEP at the Ohio Statehouse!
| | |
| --- | --- |
| Rep. Thomas West (D—Canton) [right] meets with Drs. John Casey [left] and Nicole Veitinger [center] for Morning Rounds & Coffee Grounds | Hosts of the popular podcast EM Over Easy Drs. Andy Little [center] and Tanner Gronowski [right] interview Rep. Bob Cupp (R—Lima) [left] for a special advocacy episode |
| Leadership Development Academy member, Dr. Bryan Graham [left] introduces himself to Sen. Joe Schiavoni (D—Youngstown) | Drs. Tom Lukens [left] and Tom Tallman [right] discuss emergency medicine with fellow Clevelander, Rep. Stephanie Howse [center] |
| Rep. Alicia Reece (D—Cincinnati) [center] gathers with Ohio ACEP leaders [left to right] Executive Director Laura Tiberi and Drs. Nicole Veitinger, Ryan Squier, and Dan Breece | Drs. Tom Tallman [left] and Matt Sanders [right] greet legislator and fellow physician, Rep. Steve Huffman, MD (R—Tipp City) [center] |
---
We would like to extend a special thanks to our event sponsor, TeamHealth!

---
For more pictures from Morning Rounds & Coffee Grounds, check out the Photo Album on Facebook and #EMadvocates18 on Twitter!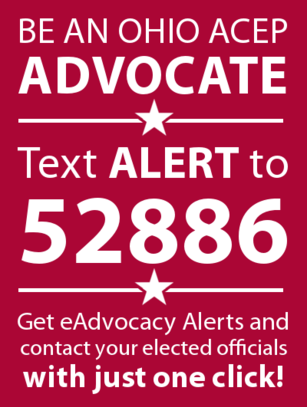 Messages and data rates may apply. Text HELP to 52886 for help. Text STOP to 52886 to cancel.