10/09/2014
Ebola Table Top Exercise Documents Added to ACEP's Website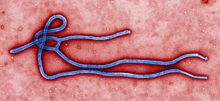 In response to the ongoing outbreak of Ebola in West Africa and the first cases of the virus outside the continent, the CDC and National ACEP are making a number of Ebola treatment and preparedness resources available on the ACEP website. ACEP is regularly adding and compiling these resources as they become available, and healthcare providers are invited to check back regularly.
Most recently, the Kentucky Department for Public Health's (KDPH) Preparedness Branch has developed a complete package of Ebola Tabletop Exercise (TTX) materials to help hospitals, public health agencies, health care organizations, and coalitions with their Ebola preparedness planning. The package, titled "Out of Africa," should help work through the process of how to handle an Ebola patient and to identify and address related issues.
The Tennessee Department of Health has released a similar document. To see all the resources available, visit ACEP's Ebola Resources page at www.acep.org/ebola.