03/27/2015
US House Passes 'Doc Fix'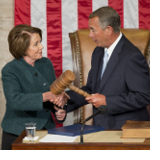 On Thursday, the United States House of Representatives passed a bill that would head off a 21% cut to Medicare reimbursement and permanently repeal the flawed Sustainable Growth Rate (SGR) formula. The bill—the result of a rare bipartisan deal struck by House Majority Leader John Boehner (R – OH) and House Minority Leader Nancy Pelosi (D – CA)—also provides a two-year extension of the Children's Health Insurance Program (CHIP).
For at least 12 years, both parties in Congress have recognized the need to fix the SGR, the formula which determines reimbursement rates for physicians who treat Medicare patients. So far, however, a deal has eluded lawmakers, leading to a series of temporary "patches" instead.
When the deal between House leaders was announced, physicians' groups around the nation—including Ohio ACEP—mobilized to make sure Congress would take advantage of the historic opportunity to finally fix the SGR. The medical community rallied behind these efforts, called and emailed their representatives, and helped make sure the House passed the bill.
The House's overwhelming support (392 in support; 37 opposed) puts pressure on the Senate to approve the measure. However, as the Senate worked into the pre-dawn hours of Friday, March 27, on a separate plan to balance the budget, leaders announced the decision to wait until after Congress' two-week spring recess to finish the legislation. Though physicians are scheduled to be hit with Medicare cuts on April 1, though the government can delay processing payments until after the recess.
President Obama has indicated his support for the bill and has said he would sign it if it arrives on his desk.
Look for future Action Alerts from Ohio ACEP to see how you can help keep the pressure on our senators and make sure they pass the legislation.
A big "thanks" to our members who answered our call to action and contacted their lawmakers!