Dr. Carol Rivers' Written Board Review Products -
Residents
A trusted and successful tool utilized by your peers for decades!





Dr. Carol Rivers' Preparing for the Written Board Exam
in Emergency Medicine, Eighth Edition
January 2017

Order the Eighth Edition today!




Return Policy: Dr. Carol Rivers' Board Review Products are non-returnable and non-refundable. No exceptions.
---

Eighth Edition, Volumes I & II (2017)
Includes Access to Textbook App!
The eighth edition is a comprehensive, 2-volume text, that is a primer for certification, recertification and inservice exam preparation. The text features updated and succinct board review content and more than 500 pre-chapter questions and answers.

Purchase includes access to the textbook app which is searchable and includes an image gallery, interactive tests and a bookmark feature.

The Self-Assessment will be provided electronically with your textbook purchase. It consists of over 100 multiple choice emergency medicine test questions along with answers and explanations designed to assess your understanding of the text.
Textbook Features
- Clinical Content Focused
- Over 500 Questions/Answers
- Hundreds of Images
- End of Chapter Clinical Scenarios
- Bold Text Highlights Critical Facts


It is an easy-to-read, study directed text that focuses on key facts and clinical content.


---

Eighth Edition (2017)
Includes Access to Flash Card App!
Need a fast, focused review? This easily accessible, academically focused quick study resource is just what the doctor ordered for active review while in the Emergency Department. The 550+ color coded flash cards focus on rapid access information covering 17 academic topics essential to exam preparation.
---

Eighth Edition, Volumes I & II (2017)
Includes Access to Textbook and Flash Card App!
This package consists of the 2-Volume Text and Flash Cards.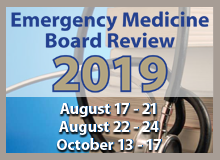 Looking for a LIVE Emergency Medicine Board Review Course?
For more information about the EM Review course
and to register online click here!
---
Sessions on Demand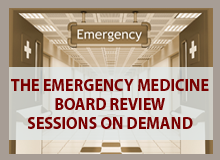 Online EM Board Review Course.
Watch at your convenience!
Includes 51 lectures with PowerPoints, Synced Audio and Course Syllabus.