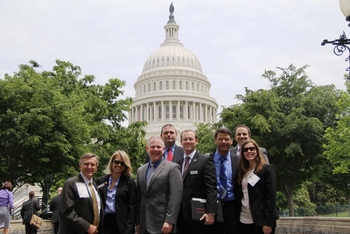 Advocacy Agenda
Your time is money-your dues money means Advocacy for emergency medicine and a better practice environment. Ohio ACEP tirelessly advocates for emergency physicians, for fair reimbursement, better treatment in the courts, and ensuring patient access to emergency medical care including availability of medical specialists and follow-up care. Every day we focus on the issues that are most important to emergency medicine:
Medical liability reform, in particular enhancing the burden of proof for medical liability cases in emergency situations
The fight against the prescription opioid and heroin epidemic
Patient access to quality emergency care
The challenge of ED boarding and crowding
Increased reimbursement and fair payment
Working to help state legislative and regulatory leaders develop and enact laws that support emergency patients and emergency physicians.
| | | |
| --- | --- | --- |
| Ohio ACEP Board Member, Dr. Tom Tallman, meets with Rep. Stephanie Howse at Ohio ACEP's premier advocacy event, Morning Rounds & Coffee Grounds | Rep. Bob Cupp [left] talks liability reform with Ohio ACEP members, Drs. Andy Little [center] and Tanner Gronowski [right], for their podcast, EM Over Easy | Ohio ACEP's Dr. Tom Lukens [left] meets with his House Member, Rep. Nickie Antonio [center], and Ohio ACEP Executive Director, Laura Tiberi |
With the issues of health care front and center at the state and federal level, Ohio ACEP advocates for patients to have health insurance and access to quality emergency care regardless of employment or health status. Ohio ACEP supports health care reform including the following principles:
Pursue medical liability reforms to reduce the need for defensive medicine
Focus on wellness and prevention
Reduce insurance company bureaucracy and paperwork to spend more time with patients
Give patients the freedom to choose the health care plan that best suits his/her needs
Ensure physicians are able to provide high quality care without interference from the government and insurance companies