Complete Story

04/08/2013
Dawn Prall, MD, FACEP, Honored as OSMA Physician Advocate of the Year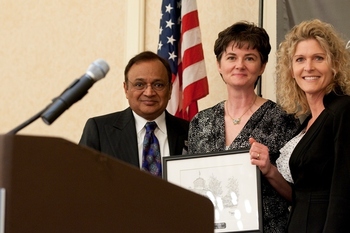 On Saturday, April 6, Dr. Dawn Prall was presented with the Ohio State Medical Association's (OSMA) Physician Advocate of the Year Award. The honor is given annually to recognize a physician who goes beyond his or her primary role as a provider of clinical care to advocate at the state, local or federal level to affect positive change on behalf of his or her patients, their communities and the medical profession.
Dr. Prall is a clinical physician and serves as Director of Emergency Ultrasound at Mt. Carmel/St. Ann's Hospital Department of Emergency Medicine. At The Ohio State University, she also serves as an auxiliary clinical assistant.
The OSMA named Dr. Prall Physician of the Year for her tireless work combating the state's prescription drug abuse epidemic. As a member of the Governor's Cabinet Opiate Action Team, Dr. Prall played a critical role in developing the Ohio Emergency and Acute Care Facility Opiate and Other Controlled Substances (OOCS) Prescribing Guidelines. The OOCS Prescribing Guidelines, which do not replace physician clinical judgment, were adopted by the state in May of 2012 to help ED physicians meet the challenge of drug-seeking patients.
The Chair of Ohio ACEP's Government Affairs Committee, Dr. Matt Sanders, nominated Dr. Prall for the award.
"Dr. Prall truly exemplifies the physician who goes beyond the primary role of providing clinical treatment to their patients by advocating for the well-being of their profession," Dr. Sanders wrote in nominating his fellow ED physician. "And her commitment to the creation of guidelines versus mandates had a definite, significant, positive impact on her physician colleagues and members of the OSMA and Ohio ACEP."
---