Complete Story

05/17/2018
Ohio ACEP President-Elect Testifies in Support of Telemedicine Bill
Dr. Brad Raetzke highlights bill's potential for easing ED crowding and boarding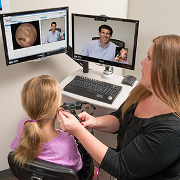 On May 16, Ohio ACEP President-Elect Dr. Brad Raetzke delivered testimony before the House Health Committee in support of House Bill 546. The legislation, introduced by Rep. Thomas Patton (R—Strongsville) would prohibit health insurers from treating telemedicine services differently than in-person healthcare services solely because they are provided as telemedicine services.
In his testimony, Dr. Raetzke said the lack of access to mental health treatment options means patients who come to the emergency department with psychiatric emergencies must be kept in the ED—sometimes for days—while they wait for a facility appropriate for their needs. HB 546 would help broaden access to telemedicine, Dr. Raetzke said, which is a promising tool to help address the persistent problem of ED crowding and psychiatric boarding.
"If we can provide psychiatric evaluations to these patients using telemedicine, and specialists can be reimbursed for those services, we would expect increased access for our patients in the emergency department."
In sponsor testimony before the House Health Committee on April 11, Rep. Patton said his bill would improve access to healthcare services, especially for patients in medically underserved and rural areas.
"Ensuring telemedicine services are covered," testified Rep. Patton, "will allow patients across Ohio faster access to care, decreased travel costs, and allow for better and more convenient treatment and monitoring of chronic conditions," which he said accounts for three-quarters of all healthcare spending. Citing Health Affairs, Rep. Patton stated that the use of telemedicine in emergency departments, nursing home facilities, physician offices, and prisons could save the United States $4.25 billion each year.
On May 23, the House Health Committee accepted written opponent testimony from the National Federation of Independent Businesses and the Ohio Chamber of Commerce. Both organizations oppose HB 546 on the grounds that it would increase premiums and violates the General Assembly's commitment in 2016 to implement a two-year moratorium on any new healthcare mandates.
Ohio is one of 15 states without some level of telemedicine parity legislation. Ohio ACEP strongly supports telemedicine parity and has come out in favor of HB 546.
HB 546 has received three hearings before the House Health Committee. Be on the lookout for updates on the bill's progress.
---