Complete Story

05/25/2017
Heroes Honored at EMS Star of Life Awards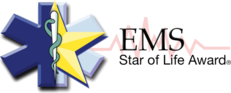 On May 24 in Columbus, Ohio ACEP teamed up with the Ohio Division of EMS and the State Board of Emergency Medical, Fire, and Transportation Services (EMFTS) for the 17th Annual EMS Star of Life Awards ceremony. The Star of Life Awards were established to celebrate Ohio's outstanding first responders, reunite EMS personnel with the patients they saved, and honor Ohio's EMS heroes.
Check out the video of the event! You may need to install Microsoft Silverlight to watch.
Emergency physicians know how critical our nation's EMS professionals are, and Ohio ACEP is proud to help recognize their life-saving work. Congratulations to all the departments and EMS personnel who received honors!
EMS Stars
Bath Fire Department
Beloit Fire Department/EMS Division
Brooklyn Fire Department
City of Monroe Fire Department
Coshocton County EMS
Hopedale Fire Department & Unionport Fire Department
Liberty Township Fire Department
Macochee Joint Ambulance District
Madison County Emergency Medical District & Central Townships Joint Fire District
New Philadelphia Fire Department
Wakeman Fire Department
Westlake Fire Department


EMS Medical Director of the Year
Todd Brookens, DO, FACEP

Frank Giampetro Distinguished EMS Educator Award
Mark Johnston


EMS Agency of the Year
Upper Arlington Fire Division
---